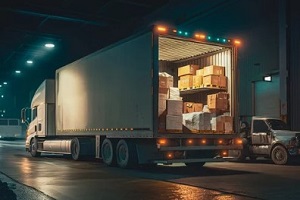 Trucking is a comprehensive field that provides services across all types of industries, from hazardous materials to refrigerated goods. Each of these niches comes with its unique risks, and with that has been a growth in box truck insurance policy types to cover them.
However, if you own a trucking company or drive a truck, you might not be sure which policies apply to you. For example, what about box truck insurance? Is what you drive considered a box truck, and if so, do you need special coverage? Here's what you need to know about businesses that need box truck insurance and what it can do for you.
What Qualifies as a Box Truck?
Any business that uses box trucks can benefit from box truck insurance. But not every square-shaped truck is necessarily considered a box truck. Instead, it's best to ask your insurance agent if your fleet qualifies for box truck insurance. In general, businesses that need protection include:
Any company that has sleepers in the truck
Refrigerated delivery services
Any business that uses tilt cabs
Companies that ship products in ice boxes
Movers
These are just a few of the businesses that most commonly utilize box trucks. Thus, the main industries served by box truck insurance are courier/delivery companies, retail and distributors, or wholesalers.
Is Box Truck Insurance Different From Trucking Insurance?
As a trucker, you may have researched some of the basic insurance coverages that can benefit your business. However, box truck insurance is a different—and more specialized—type of policy that specifically caters to the needs and risks of box trucks. For instance, not all box trucks weigh enough to qualify for some of the policies that might be offered to, say, 18-wheelers. These protections are different based on weight and vehicle type.
However, box truck insurance that comprehensively covers your risks will include protections such as physical damage coverage, nontrucking liability, cargo insurance, collision coverage, and general liability. What you will need depends on your niche; reefers, for instance, can benefit from policies that specifically cover refrigerated trucks and their cargo as well. These elements are not usually protected by their standard industry cargo and damaged counterparts.
Is Box Truck Insurance Mandatory?
Box truck insurance—in other words, the specialized kind of policy that specifically caters to box trucks—is not required in order to do business. Yet, you will still need to carry an insurance policy for general liability/commercial trucking. This is to protect others who may be involved in an accident or sustain harm as a result of the box truck driver.
Review your local and state regulations to ensure that you comply with any specific requirements. If you conduct trucking on an interstate basis (as opposed to intrastate, without crossing state lines), you will need to comply with the rules of each state that you pass through.
The Costs You Can Expect
There is no single answer for how much box truck insurance coverage costs. Some elements that increase (or decrease) the price are things that you can control, but others are not. You can control:
The cargo you choose to haul
The types of workers you hire
How you train your truckers
What kinds of contracts do you accept
What sort of coverage do you prefer
All of these factors can change how much your box truck insurance costs. Insurers will typically consider you less of a risk if you hire drivers with experience and a clean track record with no accidents. However, some elements are out of your control, such as:
Whether you have filed claims in the past
Mistakes made by drivers
The minimum coverage required by the government
In general, expect to pay at least $5,000 per year for liability coverage, though this number can be as much as $10,000 depending on the factors outlined above. General liability usually doesn't exceed $1,000 per year, but workers' compensation can add $5,000, especially if you have multiple drivers. Working with your insurer to bundle coverage is just one of the ways that you can reduce the overall expense of box truck insurance.
Get Your Box Truck Coverage From the Experts in Trucking Insurance
Considering whether box truck insurance is right for your situation? Many businesses need box truck insurance to protect their investments in vehicles and cargo. The experts at Burton & Company can help you to determine if this type of coverage is worthwhile to your company and, if so, how to choose the terms that best suit your unique situation. Reach out to learn more or to schedule an appointment to get started.