Forestry Insurance Policies We Offer
Organizations that operate in the forestry industry need special forms of protection that are not always offered through a typical business insurance plan. Outlined below are some of the forestry insurance coverage options we provide here at Burton & Company:
Environmental Insurance
Environmental insurance can protect your forestry business in the event of accidental pollution or another type of environmental damage. It may cover costs of cleaning up and defending claims, and it's also smart from a public relations perspective as it shows you are taking steps to mitigate the risks your forestry business poses to the environment.
Workers Compensation Insurance
Logging can be dangerous work, with regular exposure to heavy logs, sharp saws and other hazards. Our workers compensation policies provide medical and rehabilitation benefits to any of your employees who become sick or injured on the job. It is a no-fault system that can also provide lost wages should employees need to miss work while they recover.
If one of your employees gets hurt while working, you'll want to ensure you have proper coverage to help them make it through a difficult time as they heal while protecting your business from lawsuits.
General Liability Insurance
General liability protects your forestry company from any property damage or bodily injury claims brought against you by a third party.
Commercial Property Insurance
Commercial property insurance protects logging professionals' physical assets from damage due to storms, vandalism, theft, burst pipes, explosions and other hazards. It covers property whether it is stored inside or outside.
Commercial Auto Insurance
Forestry and logging work involves using various vehicles for activities such as cutting trees and transporting logs. Protect the vehicles you use for conducting business with a commercial auto insurance policy. This will cover physical damages, liability risks, medical payments, rented vehicles, uninsured motorists and other types of coverage in the event of an accident.
Inland Marine Insurance
An inland marine policy will cover your logging company's equipment while it is being transferred to job sites.
Truckers Liability Insurance
This covers your forestry company's vehicles and drivers from accidents that take place on third-party property, such as parking lots or rest areas, along with damage that occurs while loading or unloading cargo.
Commercial Umbrella Insurance
Commercial umbrella insurance is a form of added coverage that can give you another layer of protection by covering the costs that go above the coverage limits you have on other policies. It can save your business in the event of a lawsuit that results in a significant judgment or settlement.
Cyber Liability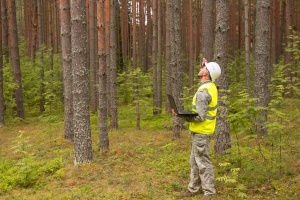 Protect your business in the event of a hacking or data breach with cyber liability insurance. This can cover costs such as lost income, notifying customers who were affected by the breach, recovering compromised data, litigation expenses, crisis management and repairing damaged computer systems.
Contact The Forestry Insurance Professionals At Burton & Company
Plan for all the potential hazards your forestry business faces with proper insurance. Get in touch with Burton & Company today, and our experienced agents will put together a tailored plan that addresses your risks for the ultimate peace of mind. To get started, reach out to us by phone at (888) 652-1325 or request a quote online to discuss your organization's forestry insurance coverage options.