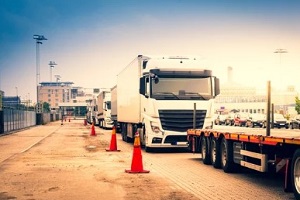 Trucking can take a variety of forms, not only with the type of cargo being transported, but also how—and where—the trucking business operates. This means that truckers need to carefully consider the type of work that their business does when selecting insurance coverage to ensure they are in compliance with all relevant federal and state regulations. Here's what you need to know about the differences between interstate and intrastate trucking, and how that affects everything from insurance to certifications.
What Is Interstate Trucking?
Interstate trucking refers to trucking companies that operate within at least two states. This does not necessarily mean that they have offices in more than one state—only that they drive across a state border for business. This encompasses companies that operate back and forth across one border and those that travel long distances or even across the entire country.
Most commonly, it will be semitrucks, 18-wheelers, tanker trucks, flatbed trucks, reefers, and tractor trailers that are traveling via interstate. However, any kind of trucker can qualify provided that they meet the requirements for the category they are trying to fit into.
What Is Intrastate Trucking?
In contrast to interstate trucking, intrastate drivers only operate within one state. That means that all of their business occurs without ever crossing state lines. Even if your point of origin and delivery point are in the same state, if you cross a border at any point, you do not qualify to be an intrastate trucker.
In the category of intrastate trucking, dump trucks, concrete mixers, tow trucks, and even garbage trucks are the most frequent participants. They will only need to abide by the laws in the state where they do business. For interstate drivers, the requirements are much more complex.
Additional Requirements for Interstate Drivers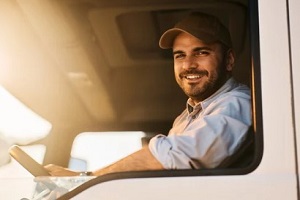 Interstate drivers are not bound by a single state since they cross state lines to do business. Thus, they must comply with the regulations for every state they pass through. This includes everything from the weight limit that they can carry to the type of insurance that they hold and how much protection they need in that policy.
The FMCSA (Federal Motor Carrier Safety Administration) sets additional rules for interstate truckers that they must abide by no matter which state they are currently operating in. Interstate truckers will also be required to secure a USDOT Number if they carry above a certain number of passengers or if they are moving hazardous material. By requiring this, federal agencies can keep track of trucking operations and whether they are operating safely and appropriately.
Interstate truckers will also need a Motor Carriernumber from the interstate operating authority in certain circumstances if you:
Transport passengers or arrange for them to be transported across borders.
Transport or arrange transport of certain regulated commodities.
Operates as a for-hire carrier.
Securing Interstate or Intrastate Trucking Insurance
For truckers who need to reevaluate their insurance policies or secure coverage for the first time, it can be difficult to know what to do about insurance depending on whether you operate interstate or intrastate. There is no such thing as a single "interstate trucking insurance policy" and the differences between interstate and intrastate trucking can make the difference between covered and a lost investment. Consulting a reputable agency can help you with coverage of the minimum requirements.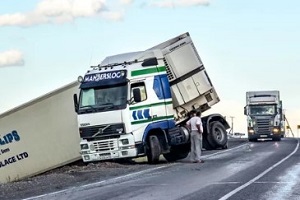 What these minimum requirements are will vary based on the type of trucking you do, what size and how many trucks you use, the cargo you are carrying, and more. Liability insurance is typically mandatory, and required minimums can range from $300,000 to up to $5 million for interstate trucks that carry hazardous materials. Insurance coverage needs to cover not only damage caused by their truck, but also bodily harm to third parties.
Depending on the state and other factors, additional types of insurance may also be necessary, each with their own minimum coverages. The good news is that as a trucker or trucking company, you do not need to figure all of this out on your own. An insurance agent that specializes in trucking can help you stay abreast of any changes or updates in requirements.
Trust the Experts to Help You Get the Right Insurance for Your Needs
To make sure that your trucking insurance protects your assets and business interests and meets the minimum requirements while staying in compliance with state and federal regulations, trust the experts at Burton & Company. Their insurance professionals can craft the perfect blend of interstate or intrastate trucking insurance. Reach out to schedule an appointment to get started.