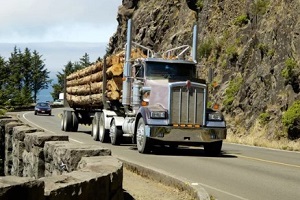 Logging is a dangerous industry, but when most people think of the risk, they imagine trees falling onto loggers and injuries related to operating sawing equipment. However, transporting timber faces its own set of serious risks, and finding the right insurance to cover those vulnerabilities requires going beyond a standard auto policy.
Logging truck insurance can help logging companies to stay safe in the face of financial dangers related to truck transport. Here's what you need to know about logging truck insurance coverage, including what it covers and how to budget for it.
What Is Logging Truck Insurance?
In short, logging truck insurance is a general term for multiple types of coverage that all work collectively to protect a logging business. Instead of purchasing each policy separately, logging truck insurance makes the process simpler by combining coverage. It's similar to buying a pre-bundled insurance policy; if you buy logging truck insurance, truckers benefit from multiple policies within it that each focus on specific vulnerabilities. They include:
Trucking Primary Liability Insurance
The most common coverage that logging truck drivers need is primary liability insurance. This coverage protects the company and driver against financial liability if their log truck is in an accident and causes damage to property or to other people. Primarily liability insurance is typically mandatory. Check your state's laws to determine the minimum amount that a logger must carry in protection.
Cargo Insurance
The purpose of a logging truck is to transport timber, typically from its place of origin to a facility that will further process it. That timber is the truck's cargo, and like any cargo, it is both valuable and prone to damage. A truck could tip — which is a particular risk for timber trucks considering their weight — and damage or lose its cargo.
It could fall victim to vandalism or theft in transit to its destination. Some logging truck cargo has even been lost to natural disasters like fires. To protect the value of the cargo, cargo insurance comes as part of a logging truck policy.
Physical Damage Insurance
Of course, the timber itself is not the only thing that can be damaged en route to the destination. The logging truck could suffer damage that prevents it from continuing its journey or renders it unsafe to drive. Physical damage such as theft to the truck is covered under this type of protection.
Flatbed Truck Insurance
Depending on the type of logging truck in use, flatbed truck insurance may also be beneficial. It can come with a variety of protections, but at a minimum, it typically covers problems that arise when cargo shifts or spills. If your logging company uses flatbed trucks for transport, having this type of policy included in a logging truck insurance bundle is invaluable.
Is Logging Truck Insurance Expensive?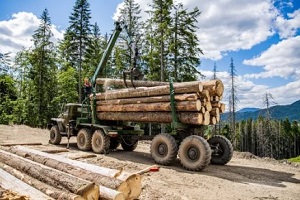 Logging truck insurance covers a wide range of potential mishaps that can beset a transport vehicle carrying timber. Given such broad coverage, logging companies expect such insurance to be expensive. The good news is that it doesn't have to be. Logging truck insurance can be costly, especially for companies that maximize every type of coverage, but there are things you can do to mitigate the cost.
First, be sure to look into bundling. While logging truck insurance is itself already a bundle of other types of protection, it is likely not the only type of insurance that a logging company needs. Other safety nets like workers' compensation, if sought from the same insurer, can be bundled to reduce the overall cost of both products.
Second, consider increasing safety measures to decrease costs. If a logging company can prove that it is less likely to face industry risks, insurers will view it as more insurable and thus decrease their rates. You can do this by investing in training and safety schools for employees, which will improve their competence and equip them with the skills they need to make smart choices in this dangerous industry.
Additionally, focus on hiring employees with experience and maintaining equipment consistently so that it is in proper working order at all times.
Work With the Trucking Pros for the Best Coverage
Logging truck insurance can remove much of the danger that goes hand in hand with transporting timber. That peace of mind is second only to the financial security that companies can enjoy knowing that they are protected against monetary liability.
Be sure to secure your logging truck insurance coverage from an insurer that works with logging companies consistently. The trucking insurance experts at Burton & Company can help you to explore your options and find the right mix of protections to suit your business. Reach out to learn more or to schedule an appointment to get started.