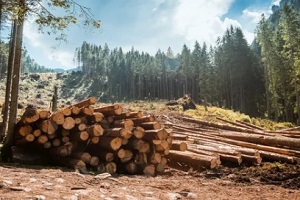 The logging industry is critical for producing the goods and services that we take for granted every day. However, despite the ubiquity of all of the products that logging creates, logging itself is still a complex and less streamlined job. Human workers cannot be replaced with automated technology just yet, meaning that logging employees are constantly faced with high-risk endeavors during their day-to-day job.
Logging is still one of the most dangerous industries, making it critical for any forestry-related company to carry robust insurance that protects against a variety of risks. Especially insurance for loggers. If you're thinking about logging coverage, here are some of the most popular types and why.
General Liability Insurance
Most businesses carry some type of general liability insurance. Exactly what this covers will depend on your policy, but overall, general liability protects you from being responsible for costs that you incur as a result of mistakes and accidents to others' property.
However, general liability is not a catchall, and some categories of accidents will not be protected under the policy. Read your coverage information carefully to see whether business-related auto accidents and things like damage to the business property are included. Sometimes, if these issues are important to the way you do business and the risks you face, you can add them using riders.
Equipment Insurance for Loggers
Loggers would not get very far without the wide array of equipment that they use. From large saws to powerful trucks that can lift and haul whole logs whole, the machinery in a logging operation is what keeps business running smoothly. If tractors, trucks, processors, slashers, and more are damaged during the course of work, your logging business may grind to an immediate halt—meaning not only dealing with the costs of repairs but also the lost income from a stalled operation. Equipment insurance for loggers can keep your project going by replacing damaged machinery quickly and reducing the cost burden.
Pollution Liability Insurance
Because of the nature of logging work, some element of pollution is almost guaranteed. Whether that's an oil spill or a truck leaking thousands of gallons of gasoline, you are responsible for the cost of cleanup without pollution liability insurance. Read your policy carefully to understand exactly which types of pollution are covered and which ones will continue to remain your responsibility.
Cargo Insurance
The entire point of logging is usually to take timber from one location and transport it to another for use, processing, and dissemination to its final destination. This valuable cargo is why you took on the logging project, and cargo insurance can keep it safe.
Things don't always go as planned, and your cargo may be lost or damaged at any point along its journey. In the worst case scenarios, natural disasters or malicious acts could completely destroy the cargo that you are hauling. Cargo insurance protects your bottom line against the severe financial hit you may take from losing an entire haul.
Workers' Compensation Insurance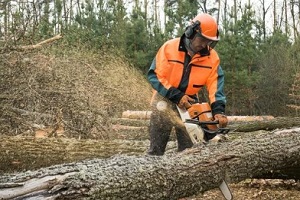 As mentioned previously, logging is a very risky business. It involves clearing land using powerful equipment, and falling trees or uneven land can cause their own share of injuries and even fatalities. For these reasons and more, workers' compensation insurance is critical for any logging operation.
Workers' compensation helps employees pay for and recover from injuries or supports their families if something should happen to them while on the job. The most common payouts for workers' compensation in logging are partial amputations (such as a finger), concussions, lacerations needing stitches, and loss of hearing due to constant work around large, loud machinery.
The most competitive logging companies will offer robust workers' comp insurance that thoroughly protects employees. Be sure to review any policy that you are considering carefully because certain subtypes of injuries may not be covered in all policies. Most frequently, there will be some exclusions such as how much of a finger or hand must be amputated in order to qualify; losing a single finger is not always sufficient. The more coverage you can offer, the more competitive your company will seem among the crowd.
Trust the Pros to Help You Mix and Match Insurance Policies
Understanding your greatest risks in logging comes down to your individual business, which means that your blend of insurance coverage will be just as unique as you are. The experts at Burton & Company can help you to choose the insurance coverage that will serve you best without committing to unnecessary expenses. Reach out to learn more or to schedule an appointment to get started.