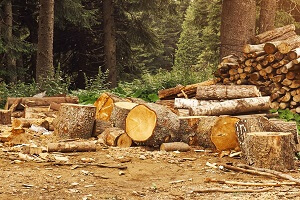 Logging is a dangerous industry, and the people who work within it face many risks each time they go to work. From mechanical failure to bodily injury and even death, loggers should protect themselves with robust logger insurance coverage that addresses all their needs and risks.
However, it can be challenging to identify which types of coverage are critical and how to fit them into your business's budget.
To help your logging company make the best decision for your need, Burton & Company offers in-depth insights that you may want to consider what your biggest insurance risks are, what you can do about them, how to carefully change your situation to reduce your risk, and the cost you'll pay for logger insurance coverage.
The Most Common Risks Faced by Loggers
In the timber industry, your primary task focuses on logs in some way. You may cut logs, transport them, or prepare them, but no matter your role in their processing, you know that they are heavy, unwieldy, and dangerous. Generally, transporting logs is the most hazardous part of the process.
Additionally, one of the most common risks faced by the logging industry is damage—both to property and people. If logs roll or tip, they can ruin personal property and even the landscape. If logs leave their transport carrier and into other traffic, you may face equipment damage or even a liability issue.
Moreover, people can also be injured in multiple ways when handling timber. Crushing injuries, accidental amputations, sprained ankles, concussions, and more are all frequent causes for employees to miss work, and a robust workers' compensation policy is critical for this industry as a result.
One item that owners of logging companies often do not consider until it is too late is how other parties impact their work. Sometimes that another party is nature—with wildfires or even earthquakes—damaging equipment and even the timber that your company was contracted to process.
Sometimes, another logging operation will accidentally encroach upon your workspace, impacting your bottom line. Still other times, your equipment or timber might fall victim to vandalism that costs your company money. All these issues can be addressed with logging insurance.
Insurance Policies That Address These Risks
The types of insurance that your logging business needs to depend on what your business does and where. But, in general, you can expect the following policies to be broadly helpful:
General liability – many businesses are required to have general liability insurance, which protects others from the harm that logging can cause (such as bodily injury or property damage).
Logging equipment – even if you have commercial property insurance, it won't usually cover your logging equipment. If your machinery is damaged, you may not be able to complete your project.
Workers' compensation – due to the substantial risk of injury in the logging industry, comprehensive workers' compensation insurance is a must. This helps to cover the costs of employee medical treatment and allows workers to miss work until they heal. It can even pay families in the event of an employee's death.
Pollution – Because of the heavy machinery, logging companies must consistently be cognizant of potential pollution. Gas and oil leaks are just one of the many risks for which a logging business may be found liable.
How To Reduce the Financial Cost of Logger Insurance Protection
Getting the right insurance for your logging business often seems daunting, not only due to the wide range of important policies but also the cost. However, there are things that you can do to reduce the overall expense of logger insurance coverage, including:
Invest in regular training to keep your workers safe and reduce your risk.
Hire employees who have experience and a track record of success.
Pursue continuing education, affiliations, and connections that demonstrate your company's commitment to smart industry practices.
Bundle your insurance policies with the same insurer to receive a discount.
Ask if paying your yearly premiums all at once can result in a reduced rate.
Your insurer will help you to understand how the cost of your premium is determined and what steps you can take to mitigate the financial burden.
Trust the Trucking Insurance Pros for Your Coverage
Whether you're looking at logger insurance for the first time or reevaluating your existing coverage, consider the experienced timber insurance professionals at Burton & Company. They will help you explore your logger insurance options and create a comprehensive package that addresses all your risks. Reach out today to learn more or to schedule an appointment to get started.