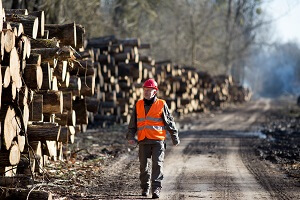 Insurance coverage is an important part of any business operation, but forestry companies in particular need to pay attention. Forestry, timber, and logging jobs come with an inherent risk that is much higher than most other jobs in America, which means that the insurance coverage for these jobs needs to be robust and comprehensive.
But which coverage offerings should be offered by your forestry insurance company, and how can you tell if you're paying for more coverage than you'll use? Here's what you need to know about how forestry insurance works and the costs involved.
The Types of Coverage You'll Likely Need
Each forestry company is unique, and not all companies will need every type of insurance policy that's related to timber and logging. However, some of the most common policies across all business types are:
Commercial truck–Protects a trucker from damage and any associated liability if the truck causes injury or damage to property. This type of insurance is usually mandatory.
Equipment breakdown–If a forestry company's machinery stops working, they might lose out on valuable time or even lose jobs completely. This type of policy covers repairs for a business's most important equipment, but a company does not necessarily need to insure everything. Many businesses will choose to only carry equipment breakdown insurance on their most valuable items, such as slashers, processors, and feller bunchers.
Cargo–For many businesses, the point of working in forestry is to bring in a haul for which they get paid. Transporting timber can be dangerous, and losing that timber along the way might spell financial disaster for a company without cargo insurance. Coverage is available not only for loss of the cargo itself but also any damage it might cause, such as if the timber comes loose during the journey.
Workers' compensation–Every forestry business should carry workers' compensation insurance. This industry is risky, and injuries or even death are much more common than average. Workers' compensation covers individuals and families who are affected by an injury.
Pollution–Logging operations can cause significant harm to the environment if not carefully regulated. When a logging company causes erosion, releases pollutants into natural water sources, and more, they can be covered by pollution insurance to avoid costly financial liability.
These are just a few of the many types of coverage that are typically offered by a forestry insurance company. You may need some or all of them—and more—depending on the type of work that you do. However, what matters is not only what kind of insurance you select but also how much.
How to Know When You Have "Enough" Coverage
The concept of "enough" coverage is subjective, but there are some ways to dial in on an appropriate amount for your business. A good practice is to look back at previous claims and calculate whether historic coverage has been sufficient and, if not, by how much. If you have not had previous claims, look at the costs that other companies are paying when something goes wrong. Your insurance agent can help.
More specifically, some states require a minimum of $500,000 in commercial truck coverage for nonhazardous freight on smaller vehicles. In the State of California, vehicles over 10,000 pounds move up to $750,000 minimum, and hazardous freight minimums are even higher at anywhere from $1 million to $5 million.
Additionally, cargo insurance policies do not usually go below $1 million minimum, but some companies select higher caps based on what they haul. It is not recommended to select less than $1 million in general liability, and if you are insuring your equipment, try to cover the cost of replacement for your most critical machines.
Additional Coverage You May Want
Depending on the kind of work you do, your company might fall into more specific niches that require tailored insurance coverage. Loggers, for example, may want to consider broad form property damage protection, which shields them from liability during loading/unloading. It also covers damage to the forested areas they may harvest.
Businesses that utilize aircraft can benefit from helicopter or aircraft insurance. Companies with a large number of employees often opt for employment practices liability insurance to cover lawsuits if they run into snags in hiring and managing workers.
Get Your Insurance From a Reputable Forestry Insurer
The right kind of forestry insurance coverage is just as unique as your business. If you are unsure about how much coverage is enough to protect your day-to-day operations, reach out to the forestry insurance experts who can help you understand common costs.
The professionals at Burton & Company can evaluate your business and recommend robust coverage that will shield you from financial liability while still complying with your annual budget. To get started, schedule an appointment online or call 888-652-1325.