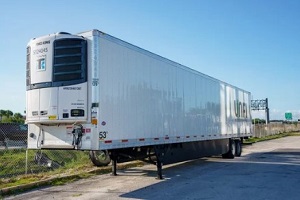 Trucking as an industry, serves a wide variety of other industries, from transporting food and products to hazardous materials and more. Among the many types of trucks for all of these various products are reefers, or refrigerated trailers.
Reefers transport cold or frozen products making them prone to different hazards than other types of commercial trucks. Securing comprehensive insurance that is tailored to these trailers is a necessity for any business that participates in reefer contracts.
Here is what you should know about how reefer breakdown coverage fits into your trucking insurance plan, including what this type of insurance typically covers (and what it does not), as well as other coverage that complements reefer protection.
What Is Reefer Breakdown Coverage?
Reefer breakdown coverage is a type of insurance policy that protects a trucking business from liability and financial consequences due to a malfunction of the cooling elements of a reefer trailer.
In other words, if the refrigeration unit within the reefer trailer stops working during transit, any cargo that is spoiled or ruined can be protected and reimbursed under reefer breakdown coverage.
Unfortunately, there is only so much that reefer coverage can provide. While it prevents catastrophic financial consequences as a result of losing cargo or failing to deliver it on time, it cannot stop damage to a company's reputation if it is unable to deliver its goods as promised.
The average reefer trailer will last about 40,000 hours; for most truckers, that equates to around 8 years of use on the road. Regular inspection and maintenance of a reefer trailer, alongside robust insurance coverage, are essential for reefer trucking companies.
What Reefer Protection Doesn't Cover
Reefer breakdown coverage shields businesses from financial disaster should their cargo become unusable, either through spoilage (as is the case with food) or deviation from acceptable temperatures (which may occur with other perishables such as pharmaceuticals). However, not all types of malfunctions are included in coverage.
If the driver is negligent and does not, for instance, remember to turn the reefer's refrigeration unit on before travel, insurance will not cover this claim. Similarly, if the driver is delayed—even for reasons beyond their control, such as a traffic accident—and the products spoil, reefer breakdown coverage will not typically pay out.
Most notably, if a reefer trailer is impacted by an accident and damaged, which causes the refrigeration unit to cease functioning or function inconsistently, many reefer breakdown insurance policies will not cover the loss to either the trailer or its goods.
This is why trucking companies need to work with an insurer who specializes in trucking insurance to receive more comprehensive coverage. They can also assist with adding riders and expanding existing coverage to protect against instances such as this that are a particular risk to your business.
Other Coverages to Include
While reefer breakdown coverage is an important part of overall trucking protection, it is only one part. It is best utilized alongside a comprehensive inclusion of insurance coverages; reefer insurance itself is often an expansion of general cargo coverage. In addition to cargo insurance, most trucking companies will elect to purchase:
Physical damage insurance – This type of policy protects against damage that occurs directly to trailers, whether or not the damage was the fault of the driver. This can happen if another vehicle collides with the truck or the trailer flips due to inclement weather.
General liability insurance – All truckers are required to carry some level of general liability coverage. The exact amount will be determined by factors such as the weight of the particular truck, what is being carried, and through which state(s) the truck is traveling. This coverage ensures that damage to third parties or property is reimbursed appropriately.
Bobtail insurance – For truckers who often operate their vehicle without an attached trailer, bobtail coverage is useful. Many other types of insurance will not cover damage to a truck when it is not hauling a trailer. If your business spends significant mileage between deliveries, bobtail insurance can be helpful.
Uninsured/underinsured insurance – If a truck is involved in a collision that is the fault of the other party, the trucker relies on the insurance of that other party to pay the claim. If the other party does not have insurance, or their insurance is not sufficient, the claim may go unpaid unless the trucker is carrying protection for uninsured and underinsured drivers.
Start Your Reefer Breakdown Coverage Today With Burton & Company
Operating a reefer is an important part of the trucking industry, but it requires careful insurance planning to ensure that the risks are properly covered. Burton & Company works closely with truckers to craft personalized and comprehensive insurance plans. Contact us to learn more about the reefer breakdown coverage that we offer and the multitude of policies that we can use to protect your business and investment.