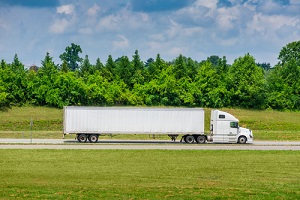 Truckers face greater risks than the average driver, from their livelihoods impacted by weather to greater damage when accidents occur. Because of this, it's important that any truck driver acquire a robust blend of insurance coverage to keep them safe on the road and protect their business.
In particular, 18 wheelers are at an increased risk of harm for multiple reasons, and it is vital to consider comprehensive coverage to protect these big rigs—which are a substantial investment of the business's finances. If you're unsure what type of insurance coverage you need for your 18- wheeler or fleet, keep reading to learn more about the most common types of policies and what they do.
What Coverage Do 18-Wheelers Need?
Like any commercial truck, an 18 wheeler will require special insurance based on its weight. In most states, any truck weighing over 10,000 pounds is required to carry at least $750,000 in liability insurance at a minimum (though, of course, the business can choose to purchase more). This minimum increases depending on cargo as well, with hazmat carriers needing upwards of $5 million or more in coverage depending on state regulations.
In addition to liability insurance, cargo coverage can be critical for 18 wheelers. Because these vehicles can carry so much cargo at once, ensuring that its value is not lost in the event of damage or theft protects the company from financial crisis.
Of course, physical damage insurance should be another part of your 18 wheeler insurance plan. These vehicles are large and expensive investments, and should they become damaged, it can be costly to repair them. Physical damage coverage helps to shield the company from the financial repercussions of such damage.
Most states also require truckers (of 18 wheelers and otherwise) to carry some form of bodily injury insurance. This can pay for medical costs when other drivers are injured in an accident with an 18 wheeler. This applies only when the trucker is the cause of the accident.
Other Helpful Policies to Consider
Depending on the type of work that your company uses its 18 wheelers for, you might benefit from additional coverage beyond the mainstays. The policies that are right for you will vary, and you can save money by bundling these policies with other coverages from the same company. It's best to work with an 18 wheeler insurance provider who specializes in trucking and can provide for all of your needs in one location.
Other helpful policies that you should consider include:
Protection from damage to the truck – Depending on the ways in which you anticipate your 18 wheeler may become damaged, you can take out additional policies to protect it. Comprehensive physical damage protection covers noncollision incidents (like if someone vandalizes the truck), while a collision damage protection policy provides protection in an accident if the driver was not at fault. If you have particular concerns, a specified peril policy can protect you from very specific hazards (like fire). These will be explained in the policy itself.
Protection from liability from other motorists – You can't always control what's happening on the road, which might lead to interactions with other motorists. Property damage coverage shields your company from liability if an 18 wheeler needs to be repaired or replaced due to the actions of another driver. If you already carry a bodily injury policy covering uninsured and underinsured drivers, you may qualify for a collision deductible waiver (CDW). If you are expected to pay for another party who didn't have auto insurance, this allows for the deductible for that service to be waived.
Protection for cargo – In addition to basic cargo insurance, your 18 wheeler might benefit from other types of safeguards. Towing insurance pays anytime your truck needs to be towed because it is nondrivable. Similarly, trailer insurance protects against damage to the trailer itself, but not the cargo inside. If you regularly haul trailers that you do not own, you can purchase trailer interchange insurance to prevent financial liability for physical damage that these borrowed trailers may incur. If you rely on reefer equipment and want to be protected in case of a malfunction, reefer breakdown insurance can help.
Get Your 18 Wheeler Insurance From a Reputable Agency
Navigating which trucking insurance policies you need can be a challenge, and you may feel like you're missing important pieces of protection. That's why it's best to work with experts in trucking insurance.
The pros at Burton & Company can help you to choose the right mixture of insurance policies to cover all of the risks you face as an 18 wheeler driver. Reach out to learn more about the variety of coverages we offer or to schedule an appointment to get started.