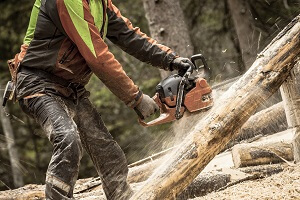 The logging and forestry industries are responsible for bringing consumers a myriad of products that are sometimes taken for granted. Everything from paper to furniture has its ties to the forest and the work that loggers do. In addition, forestry work employs more than 47,000 people according to the US Bureau of Labor Statistics. This sector is integral to the economy, but it is also one of the most dangerous.
Because of the dozens of risks that loggers face every day on the job, logging businesses are vulnerable to costly repairs and even lawsuits. For this reason, most logging companies will choose to purchase forestry insurance to shield their business from liability and keep the job going.
Here's what you need to know about why your logging company should have forestry insurance and how to choose which coverage is right for you.
The Risks That Logging Companies Face
OSHA, the Occupational Safety and Health Administration, labels logging as the single most dangerous job in the country. According to the findings, loggers and forestry workers face a death rate that is more than 30 times higher than the average worker. Part of this risk comes from the heavy machinery being used on the job, and part of it can be traced to the high incidence of unpredictable accidents that are bound to happen in undeveloped, forested areas.
One of the primary risks that loggers face is injury or even death due to machinery. Vehicles and equipment can flip, slip, or break in a way that is hazardous to those nearby. It is not uncommon for workers to lose fingers or suffer severe lacerations due to the sharp blades and saws that are used to process timber.
In addition, the machinery itself can be a costly element of risk. If a chipper or truck breaks down, this heavy equipment can be expensive to repair and may grind the entire project to a halt. Companies that need to stay on a strict schedule often rely on insurance to get the problem fixed quickly without taking a hit on their bottom line.
How Forestry Insurance Can Help and What's Covered
There is no single insurance policy called "forestry insurance." Instead, this type of coverage is a blend of multiple policies that cumulatively cover the areas most at risk for your logging business. Some insurers may offer this mixture as a single bundle for convenience and lower cost, but read the fine print to understand what is included. In particular, you should look for coverage in the following areas: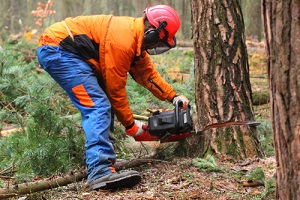 Property insurance: Depending on how your policy is worded, forestry property insurance could cover your property (that is, your machinery), or it could be called timber insurance to cover the tract of land on which you are working. If your logging business works directly with the harvesting and processing of timber, this type of insurance can be critical. Should a wildfire wipe out a forest, you would be protected from some or all of the resulting loss of income.
Commercial auto insurance: The trucks and trailers loggers use to carry timber and transport workers are valuable assets. If they are damaged on the job, commercial auto coverage can pay for repairs.
Workers' compensation: Because logging is so dangerous, no forestry insurance bundle should be without workers' compensation coverage. Be sure to read the details; not all workers' comp coverage compensates for the injuries that are most common in your field. For example, check to see if amputations (e.g., of fingers) are covered and, if so, how much of an amputation needs to occur before coverage kicks in. Cheaper policies might require that more than one finger be lost before they will start to pay.
Do You Actually Need Forestry Insurance?
Purchasing forestry insurance can be expensive, especially because insurers know that the industry is dangerous and that they'll likely need to pay out at least once (but probably more). However, it is unwise to skip vital insurance coverage in order to save money. The cost of the policy is almost always less than the potential loss from machinery failure, worker lawsuits, or timber tracts destroyed by natural disasters.
Trust the Professionals to Help You Put Together the Right Coverage
Whether you are considering the right coverage for your new business or want to take a second look at your existing policies, be sure to work with the experts. The professionals at Burton & Company can help you to create a blend of coverage that protects your most vulnerable areas without causing unnecessary expenses. Reach out to learn more or to schedule an appointment to get started.