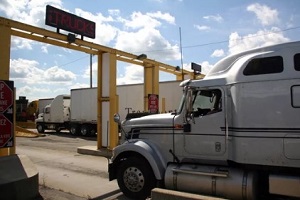 As a business, trucking can take many forms. Some companies work solely within their own communities, while others drive their trucks all across America in a single trip. Depending on which of these two types of trucking your business does, your insurance needs will differ greatly. Those conducting interstate trucking need to comply with both state and federal regulations when it comes to the insurance they carry. Here's what you need to know about your interstate trucking insurance obligations, as well as optional coverage that is highly recommended.
What Is Interstate Trucking Insurance?
Interstate trucking refers to the practice of driving across state borders. In essence, if you conduct business that enters into at least two states, you are an interstate trucker. This is in contrast with intrastate trucking, which does all of its business within the confines of a single state. Because interstate trucking crosses borders, your minimum insurance coverage will need to comply with set requirements not only of the state in which the business is based, but also with any states that you pass through.
However, you should note that interstate trucking insurance is not a type of policy. You cannot buy "interstate trucking insurance." Instead, you will need to create a blend of coverages that tackle the compliance issues required of each place you drive through. In addition, the Federal Motor Carrier Safety Administration (FMCSA) has mandates that you must follow regardless of where you drive. Together, these make up your interstate trucking insurance.
Requirements From the FMCSA
The FMCSA places requirements on all truckers, regardless of where they are located. Liability insurance is mandatory for all truckers, and it must include coverage for both bodily injury and property damage. You must also meet a minimum level of coverage, which is calculated based on the type of truck you drive, how heavy it is, and what you are hauling.
Trucks under 10,000 pounds carrying freight that is not hazardous only need about $300,000 in protection. For larger trucks, that number goes up to $750,000. These are the minimums, and truckers are free to apply for more coverage.
Of course, for truckers carrying hazardous materials, the potential damage that could be caused is much larger — and thus so is the minimum protection — $5 million is a standard minimum for hazmat truckers. Regardless of your truck size or type of freight, many brokers have their own separate minimums that they will tolerate, so in the end, truckers often end up with at least $1 million in coverage on average.
Important But Optional Coverage
While liability insurance is the only "technical" requirement from the FMCSA, most truckers will flesh out their policy with other types of coverage that safeguard them from issues not included in bodily injury and property damage policies. These include: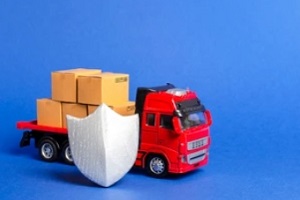 Cargo insurance – This type of policy protects the cargo that you are hauling. While the FMCSA does not require cargo insurance, most shippers will not give business to trucking companies that do not have their cargo insured due to the risk of loss.
Physical damage insurance – If you do not own your truck outright, physical damage coverage is often mandatory because lenders do not want to risk that your truck will become damaged before you pay it off. However, even if you no longer have a loan for the truck, physical damage insurance still keeps your truck protected from accidents on the road.
Bobtail insurance – Not all truckers need bobtail insurance; it all depends on how often you drive without a trailer and whether your truck is leased to a motor carrier. Your normal insurance policies will not necessarily protect you if you are driving your truck without a trailer attached. So if you drive long distances between loads, bobtail insurance may be a coverage worth pursuing.
Of course, these are just a few of the many types of insurance that could be helpful for your trucking company. A competent insurance agency with experience in insuring truckers can help you create the perfect mix of policies that keeps you appropriately covered without forcing you to spend money on protections you do not need.
Get Your Insurance From a Reputable Agency
Whether you are seeking insurance for your truck for the first time or you are re-evaluating your current policies, be sure that you are appropriately covered for interstate trucking. The insurance experts at Burton & Company can help you create the ideal blend of insurance coverages to protect you from the biggest risks you will face. Reach out to learn more or to schedule an appointment to get started.