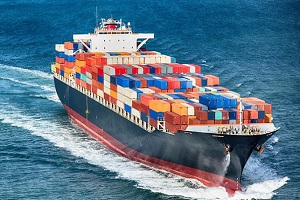 The maritime industry keeps businesses functioning nationwide thanks to both domestic and international transport of goods. Everything from produce to pharmaceuticals relies on marine transportation during the journey from production to the point of sale, and the cargo that these ships carry can be worth significant amounts of money.
As several deals are made throughout the transportation process, purchasing multiple types of insurance coverage for each voyage is an important part of operating a business that relies on travel over water.
This is what ocean marine insurance is for. Here's what you need to know about how ocean marine insurance can protect you, as well as the most common types of policies and how to make that coverage as affordable as possible without compromising quality.
Why Ocean Marine Insurance Is Necessary
Ocean marine insurance is a broad spectrum of protections that keep transportation companies in the business. If cargo is lost, the vessel sustains damage or any of a number of other potential pitfalls, the cost to recover from these situations can be significant enough to put a company out of business. Thus, insurance coverage is a critical piece of the puzzle.
Surprisingly, fires are the most common cause of financial loss in the maritime transport sector; if a vessel catches fire due to an equipment malfunction, natural event, or something else, the damage can quickly escalate.
Lost cargo, a compromised vessel, and injured workers are just a few of the areas where monetary damages begin to pile up. Additionally, marine transport is at the mercy of the weather, and climate events can threaten a voyage and everything the vessel is carrying. For these reasons and more, ocean marine insurance is a necessary addition in the annual budget.
The Protections Offered by Ocean Marine Insurance
Of course, not all ocean transport companies are the same, and insurance that is critical for one might be entirely superfluous to another. However, in general, the most common protections that almost all businesses seek from ocean marine insurance include the following:
Marine general liability – All businesses need a general liability policy, which covers damage to third parties, such as if a non-crew member is injured while on the ship or if the vessel causes property damage. The advantage of marine general liability (MGL) as a broad-spectrum policy is that it can also cover shoreside activity. This further protects ship repairers and other services that you may need to utilize during travel.
An MGL policy is also a great place to add further endorsements to cover things unique to you, like pollution buyback coverage or an extension for travel in the Gulf of Mexico.
Hull and machinery – Usually referred to simply as H&M insurance, hull and machinery coverage protects against physical damage sustained by your vessel and its equipment. Most often, this damage usually occurs either at sea if the ship collides with debris or at the port while the boat is moored.
Protection and indemnity – P&I insurance offers further protection for people who are injured while on the boat. It covers both crew and passengers, as well as people who are simply nearby while the vessel is being operated.
Ocean cargo – The cargo that a ship carries represents a large portion of the financial risk that marine transporters undertake. This type of protection shields the business from loss in the event that the cargo is damaged or lost completely, either through an act of God or an accident, such as vessel damage. The standard ocean marine insurance policy will typically only cover cargo while it is being transported on the vessel, but an insurer who specializes in the maritime industry can help you to expand that protection.
At the highest level of protection, an ocean cargo policy can secure cargo from raw material to its finished form, both before it arrives on the ship and after it transitions to its inland journey. If your business relies on long shipment chains, upgrading this type of insurance is a worthwhile effort to decrease the overall risk that the cargo faces before it reaches its final destination.
Of course, there are other types of ocean marine insurance that might be right for you beyond these basic common policies. That's why it's worth working with an expert who learns about your business needs and offers coverage that is right for your situation.
Get Your Maritime Insurance from an Industry Expert
Ocean marine insurance covers many potential risks, but it doesn't need to be complicated. The experts at Burton & Company will help you navigate your ocean marine policy coverage to best protect your business without costing you more than you reasonably need to pay. Reach out today to learn more about our insurance types and to tell us more about your business and the risks that worry you.