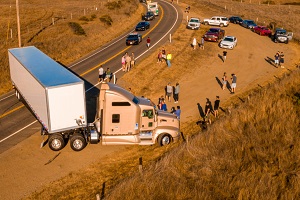 The trucking industry creates one of the largest revenue streams in the nation's economy, according to the American Trucking Associations (ATA), and is responsible for transporting 70 percent of all goods in the United States. Commercial trucking insurance provides independent truckers and trucking companies with security by delivering comprehensive coverage options that protect against losses.
Packing, loading, storing, and moving products all come with serious risks, such as damage, theft, and loss. Drivers can also experience injuries while performing their job duties. Trucking insurance aims to minimize these risks and protect businesses against property loss or damage by providing collision coverage, comprehensive insurance, and specialized coverage to trucking companies that transport cargo.
Trucking insurance policies can be customized to meet the unique needs of a company. Learn more about coverage options and who needs trucking insurance.
What Types Of Organizations Require A Trucking Insurance Policy?
The transportation industry comprises a wide range of businesses; however, it is most commonly associated with companies that haul cargo on commercial vehicles. These companies can range from small businesses with just a few trucks that transport goods locally to national companies with large fleets of trucks and other vehicles that work round-the-clock to transport cargo across long distances.
These businesses are responsible for not only keeping goods safe while in transit, but also during packing and unpacking, loading and unloading, and off-site storage in some circumstances. Cargo coverage is an essential addition to trucking insurance required by any company that routinely transports cargo from one destination to another.
There are many types of organizations that can benefit from acquiring trucking insurance, including:
For Hire Truckload Carriers – This classification of trucking is where an individual owns their own vehicle and hauls/transports goods for their employer.
Private Fleets – Private fleets include companies that both supply the actual freight and haul it using their own trucks and drivers.
Less Than Truckload Carriers – Less than truckload carriers refer to businesses that move smaller products that require home or business delivery, but are too large to be sent through the postal service.
Household Movers – Drivers that work for household moving companies may require trucking insurance to protect against damages and losses.
General Contractors – Many general contractors retain trucking policies as they rely on their vehicles to get to and from job sites, move materials, and carry tools and equipment.
What Does Trucking Insurance Cover?
A comprehensive trucking insurance policy includes a variety of coverages required to keep businesses, their products, and employees safe from damage, loss, and liabilities. Some of the most common types of coverage include: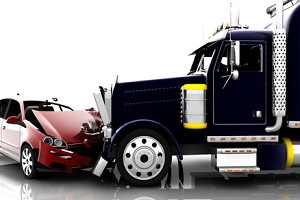 1. General Liability
General liability insurance is essential coverage for all companies in the transportation industry. This type of policy protects against property damage and personal injury claims made by a third party.
2. Workers' Compensation
When employees become ill or injured due to a work-related incident, workers' compensation can help cover any financial ramifications that result from the incident. Workers' compensation is mandatory in most states.
3. Property Insurance
Property can become lost or damaged while in transit or storage. Property insurance covers these types of incidents to physical property due to storms, fires, and other unexpected events.
4. Employment Practices Liability
Employment practices liability policies cover fees for attorneys, as well as other expenses that may arise due to a harassment claim, either by an employee to another employee or by a member of the public to an employee.
5. Cyber Risk and Privacy Liability
This type of insurance covers the theft or loss of sensitive customer information, such as credit card numbers. Cyber risk and privacy liability policies can also help prevent financial losses if a money transfer or deposit is intercepted by cybercriminals.
6. Endorsements For Company Vehicles
Traditional commercial or business auto policies may not provide sufficient coverage for some businesses. Endorsements for company vehicles may be needed by certain types of trucking businesses.
7. Public Liability Insurance
A public liability insurance policy provides businesses with coverage if a customer should suffer loss or damage to their personal property while being transported by the business.
How Much Does Trucking Insurance Cost?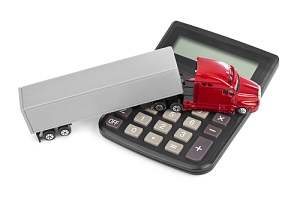 The cost of a trucking insurance policy is dependent on a number of factors. The size of the business is a major factor in determining cost. Solo workers may pay just a few hundred dollars per year for a policy, while a large trucking company may pay thousands or even millions for a wide range of coverages.
The type of trucking business also plays a role in cost. Insurance companies will take into consideration whether goods are being transported locally, cross-country or internationally, as well as what equipment and vehicles are used to transport goods. The location of the business and the number of employees that a company has also help insurance companies determine cost.
Reach Out To An Experienced Insurance Professional
Interested in learning more about trucking insurance or need a quote for a policy? Contact the insurance professionals at Burton & Company today.